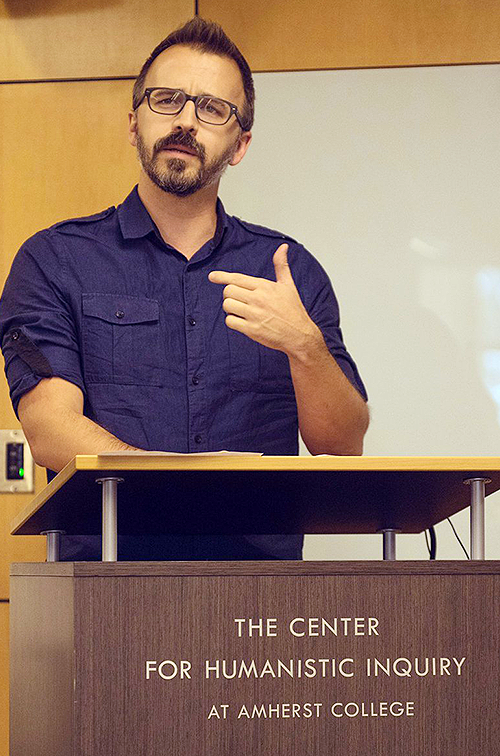 "The Time of the Commune," Diacritics 46, n. 2, special issue: "Collective Temporalities and the Construction of the Future" (2018).
"CONSTRUIR LA COMUNA," Estudios Latinoamericanos 38 (July-December 2016), 145-158.
"THE DIALECTICS OF URBAN SPACE IN CARACAS," in the Critical Exchange, "Public Space, Material Worlds, and Democratic Aspirations," Contemporary Political Theory 15, n. 4 (November, 2016), 436-445.
"DECOLONIZING THEORY FROM WITHIN OR WITHOUT? A REPLY TO BAUM," Constellations 23, n. 1 (March 2016), 133-137.
"BUILDING THE COMMUNE: INSURGENT GOVERNMENT, COMMUNAL STATE," South Atlantic Quarterly 113, n. 4 (Fall 2014).
"'SO MUCH THE WORSE FOR THE WHITES': DIALECTICS OF THE HAITIAN REVOLUTION," Journal of French and Francophone Philosophy 22 n. 1 (Summer 2014).
"DECOLONIZING FANATICISM," Theory & Event 17, n. 2 (June 2014).
"ON MEETING JOEL OLSON," New Political Science 36, n. 2 (June 2014).
"DECOLONIAL REALISM: ETHICS, POLITICS, AND DIALECTICS IN FANON AND DUSSEL," Contemporary Political Theory 13, n. 1 (2014).
"FRANTZ FANON, FIFTY YEARS ON: A MEMORIAL ROUNDTABLE," editor and contributor, with Lewis R. Gordon and Nelson Maldonado-Torres, forthcoming in Radical Philosophy Review 16, n. 1 (Spring 2013).
"CONSTITUENT MOMENTS, CONSTITUTIONAL PROCESSES: SOCIAL MOVEMENTS AND THE NEW LATIN AMERICAN LEFT," Latin American Perspectives (May 2013).
"THE DIALECTICS OF STANDING ONE'S GROUND," Theory & Event 15, n. 3 (2012).
Participant in "THE BOLIVARIAN PROCESS IN VENEZUELA: A LEFT FORUM," ed. S. Spronk and J. Webber, Historical Materialism 19, n. 1 (2011), 233-270.
"JUMPSTARTING THE DECOLONIAL ENGINE: SYMBOLIC VIOLENCE FROM FANON TO CHÁVEZ," Theory & Event 13, n. 1 (2010).
"A CRITIQUE OF DU BOISIAN REASON: KANYE WEST AND THE FRUITFULNESS OF DOUBLE-CONSCIOUSNESS," Journal of Black Studies 39, n. 3 (January 2009), 371-401.
"DUSSEL'S 20 THESES AND ANTI-HEGEMONIC PRAXIS," Listening: Journal of Religion and Culture (Winter 2008), 37-49.
"TO LOSE ONESELF IN THE ABSOLUTE: REVOLUTIONARY SUBJECTIVITY IN SOREL AND FANON," Human Architecture: Journal of the Sociology of Self-Knowledge (Summer 2007), 101-112.
"DUAL POWER IN THE VENEZUELAN REVOLUTION," forthcoming in Monthly Review 59, n. 4 (September 2007), 42-56.
"TOWARD A RACIAL GEOGRAPHY OF CARACAS: NEOLIBERAL URBANISM AND THE FEAR OF PENETRATION," Qui Parle 16, n. 2 (Spring/Summer 2007), 39-72.
"THE INTERNAL LIMITS OF THE EUROPEAN GAZE: INTELLECTUALS AND THE COLONIAL DIFFERENCE," Radical Philosophy Review 9, n.2 (Fall 2006), 139-165.
"AUDIENCE RESPONSES TO U.S. MASS MEDIA: A THREE-NATION STUDY" with Calvin F. Exoo, in National Social Science Perspectives 32, n. 1 (2006), 52-65.
"DETACHED IRONY TOWARD THE REST': WORKING-CLASS ONE-SIDEDNESS FROM SOREL TO TRONTI," The Commoner, 11 (Spring/Summer 2006), 54-73.
"BRECHTIAN HIP-HOP: DIDACTICS AND SELF-PRODUCTION IN POST-GANGSTA POLITICAL MIXTAPES," Journal of Black Studies 36, n.1 (September 2005), 129-160.